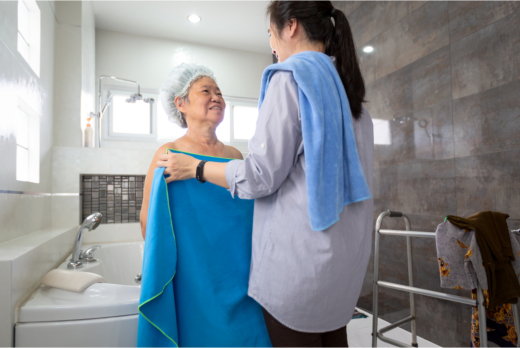 Good hygiene during the golden years is essential to maintaining a healthy lifestyle. Many of our elders struggle to maintain personal hygiene habits due to factors like low energy and mobility issues. In addition to arranging help from personal care attendants in Minnesota, here are ways seniors can maintain good hygiene:
Devise a hygiene routine.

Set up a schedule and routine that seniors can perform each day to ensure their hygiene tasks are completed promptly. The same time should be set for tasks such as combing their hair or brushing their teeth daily to maintain stability. Caregivers delivering ADL assistance can assist seniors with these tasks.

Arrange mobility assistance.

Some seniors neglect their hygiene due to impaired mobility. An in-home caregiver can provide hands-on assistance to reduce the risk of falls. Caregivers can also make sure seniors perform their hygiene tasks for the day.

Keep nails well-trimmed.

Nail care is often an overlooked aspect of personal hygiene. However, neglecting the toenails and fingernails can lead to painful infections. Providers of home care services in Burnsville, Minnesota, can clip the nails and file down rough edges to prevent fungal infections and ensure seniors don't accidentally scratch themselves.

Wear accessible clothing.

The large movements and fine motor skills needed for dressing can be challenging for seniors to manage. Clean, fresh clothing is essential, however, to maintain good hygiene. Purchase accessible clothing with comfortable fabrics and elastic closures to make it easier for seniors.
Arrange exceptional health care services in Minnesota with AMANI HEALTH CARE SERVICES LLC — your trusted partner in senior care. Get in touch with us to discuss your senior loved one's care needs with our experts.