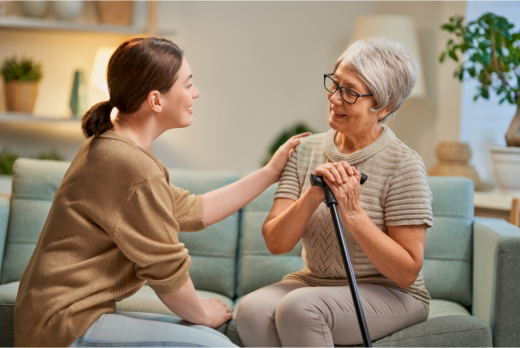 Elderly individuals often face challenges with communication due to sensory changes like hearing or vision loss and an inability to express their thoughts to others. This can make it difficult for family members and personal care attendants in Minnesota to assess their needs. Likewise, we will share tips to enhance communication with an elderly loved one:
Maintain eye contact.

Before conversing, sit face-to-face with your loved one and maintain eye contact. Eliminate any background distractions so the senior can focus on the conversation at hand. Establishing and maintaining eye contact will allow your loved one to read your facial expressions more clearly.

Express your message clearly.

Family caregivers should use a volume and pace that the senior can comprehend. This may entail speaking louder if they have problems with hearing or using body language when a senior has vision loss. In some situations, visual aids like pictures or writing down words will work better than verbal communication.

Pay attention.

Provide ample time for the senior to answer your question or respond. Communication is a two-way street, so be sure to listen attentively and look for non-verbal cues like a smile, nod, or hand gesture to understand what your loved one is trying to say.
If you are struggling with looking after your elderly loved one's needs, consider arranging home care services in Burnsville, Minnesota. We at AMANI HEALTH CARE SERVICES LLC are composed of qualified professionals who offer a wide range of services, from adult companion services to in-home family support.
Our staff is trained and experienced in handling the unique needs of our clients. For more information about our health care services in Minnesota, feel free to get in touch with us.