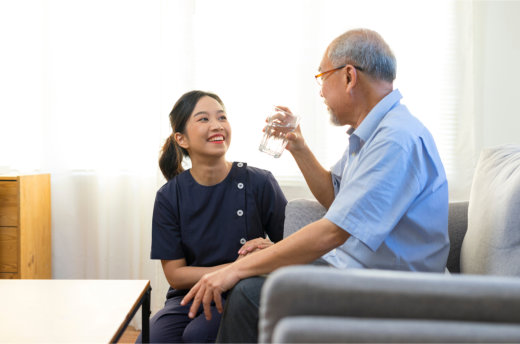 To maintain older adults' general health, it is crucial to keep them hydrated. They benefit from staying hydrated since it can ease joint pain, encourage regular bowel movements, help turn food into energy, control blood pressure, and, most significantly, support healthy skin by allowing the body to absorb more nutrients.
It is advisable to keep an eye on elders' health and hydration as their personal care attendants in Minnesota. The following are symptoms and signs to watch for in older people to determine whether they are dehydrated:
There is only a modest amount of black urine.
Quickly becomes fatigued and confused.
Has chapped lips, dry mouth, and skin.
Growth of a urine infection.
Diminished eyes.
Therefore, be sure to give them enough fluids throughout the day. Smart strategies to encourage them to drink more water include the ones listed below:
Establish a daily water consumption routine for them.
Incorporate soup in all of their meals.
Provide them with juicy fruits, juice, or tea, but ensure that they will only consume these in moderation.
Inform them when it's time to drink water and help them when necessary.
Through our personal and home care services in AMANI HEALTH CARE SERVICES LLC, we can assist in maintaining seniors' level of hydration.
As a provider of health care services in Burnsville, Minnesota, we make it a priority to assist our seniors in feeling better and getting healthy while remaining in the convenience of their own homes.
So don't wait to call us if you're looking for top-notch home healthcare. We are willing to work with you to reach your highest possible level of health.